Project initiator: Administration of the Smolensk Region.
Project purpose: accommodation of enterprises from various industrial segments.
Location: the southern part of Safonovo, the Smolensk region.
Land category: industrial land and land of settlements.
Assigned Industrial Park status - November 5, 2015
Industrial park construction launch -Q3 2015
Accommodation of the first residents – Q1 2017
Total area of the industrial park – 55 hectares (the first phase of construction) and 72 hectares (the second phase of construction)
Allocated to investors – 30 hectares (the first phase of construction) and 50 hectares (the second phase of construction)
Reserved for utility lines – 28 hectares (the first phase of construction) and 22 hectares (the second phase of construction)
Industrial park remoteness from significant infrastructure
100 km
from
the Smolensk city center
112 km
from
the Smolensk-Yuzhny Airport
6 km
from
the "City of Safonovo" railway station
Graphic scheme of the Safonovo Industrial Park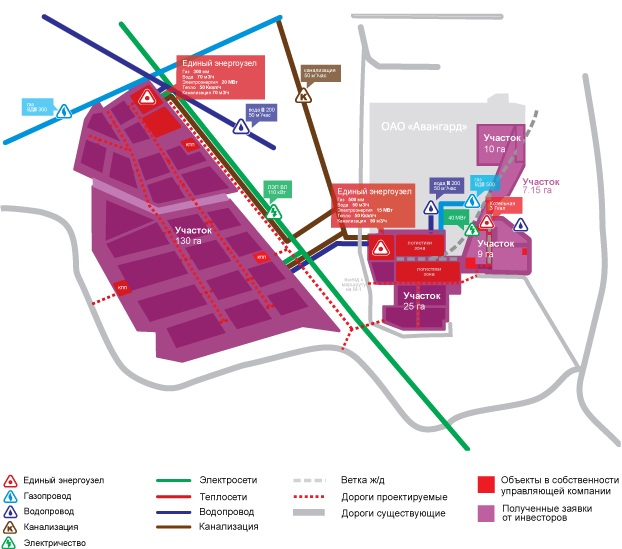 Logistics Infrastructure
The region has a unique geographical location. The following transport routes pass through the region: East-West transport corridors (the shortest route from Europe to Russia) and North-South, including railways and highways. 75% of all goods coming from Europe to Russia go through the Smolensk region.
Being characterized by the border location with the Republic of Belarus, the region has a proper customs and logistics complex with the excise terminal and the capacity of processing goods subject to phytosanitary and veterinary control.
Motorway China-Kazakhstan-Belarus-Europe.
Engineering capacity for the construction period:
685 m3/hour
wastewater
disposal
After putting the facilities into operation, the Park will have:
110/10 kW 26 mW
power supply
685 m3/hour
wastewater
disposal
Tax benefits:
Human Resources:
Within a radius of 50 km from Safonovo there are 4 settlements, including Safonovo, with a population of 10 to 50 thousand people, as well as smaller settlements.
Smolensk - the population of 331 thousand people. Large cities at a distance of 350 km - Minsk, Kaluga, Bryansk, Tver.
Distance to Moscow - 270 km.
Excellent social infrastructure. There are residential areas, hotels, dining rooms, cafes, conference rooms just 1 km from the industrial park.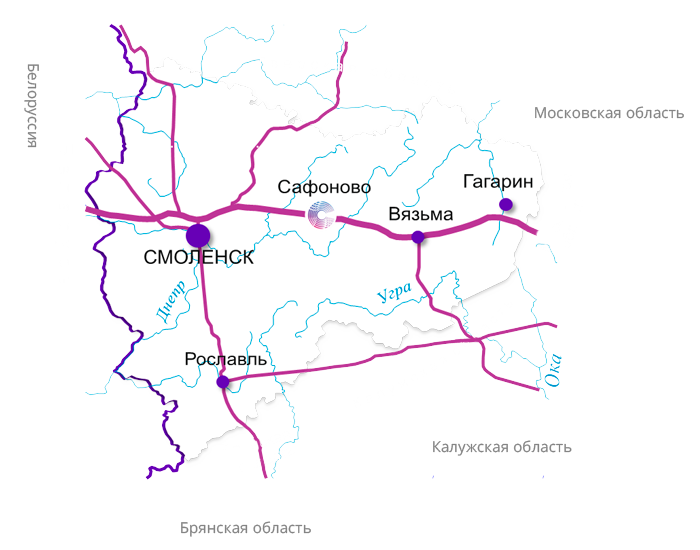 Infrastructure:
Power supply:
There is a construction project of an electrical substation with
a 26 mW capacity
Gas supply:
currently the industrial park gas supply is carried out in the volume sufficient for the construction of investment projects.
Water supply and water disposal: water supply is carried out through the existing external off-site (city) networks; water disposal is effected through the existing external city networks.
Roads:
motor roads of III category.
Telecommunications:
a range of service providers is available.
Financial measures to support the industrial park residents
- Lot rent for the construction period is 0.01 rubles per 1 hectare
- Technological connection to the industrial park engineering networks is free of charge
Special offers:
Bank credit products are offered to all industrial park residents (Sberbank, Vnesheconombank, SME Bank):
— increased loan terms,
— a lower interest rate,
— additional favorable conditions,
— participation in the programs offered by the Association of Russia's Industrial Parks on search for partners and subsequent cooperation with them,
— granting credit guarantees to all industrial park residents (JSC "Corporation of Small and Medium Enterprises").
Contacts:
Regarding accommodation of residents, please contact the Management Company of the Safonovo Industrial Park:
LLC "Safonovo Industrial Park"
Web-site: technopark67.ru
E-mail: info@technopark67.ru
Office address: Smolensk region, Safonovo, Octyabrskaya Str. 39, Building 1.
Tel./Fax 8-910-725-72-93, 8-903-893-99-68
Investment Development Department of the Smolensk Region
Department for Industrial Park Development
Tel./ Fax: +7 (4812) 20-58-03