Project initiator:Administration of the Smolensk Region.
Project purpose: accommodation of enterprises from various industrial segments.
Location: the northern part of Smolensk, the Smolensk region.
Land category: industrial land and land of settlements.
Assigned Industrial Park status November 5, 2015
Industrial park construction launch - Q3 2015
Accommodation of the first residents – Q1 2017
Total area of the industrial park – 82,5 hectares
Allocated to investors – 65 hectares
Reserved for utility lines – 17 hectares

Industrial park remoteness from significant infrastructure
8 km
from the Smolensk city
center
9 km
from customs posts including
an excise post and customs declaration center
12 km
from the Smolensk-Yuzhny
Airport
6 km
from the "City of Smolensk"
railway station
Graphic scheme of the Phoenix Industrial Park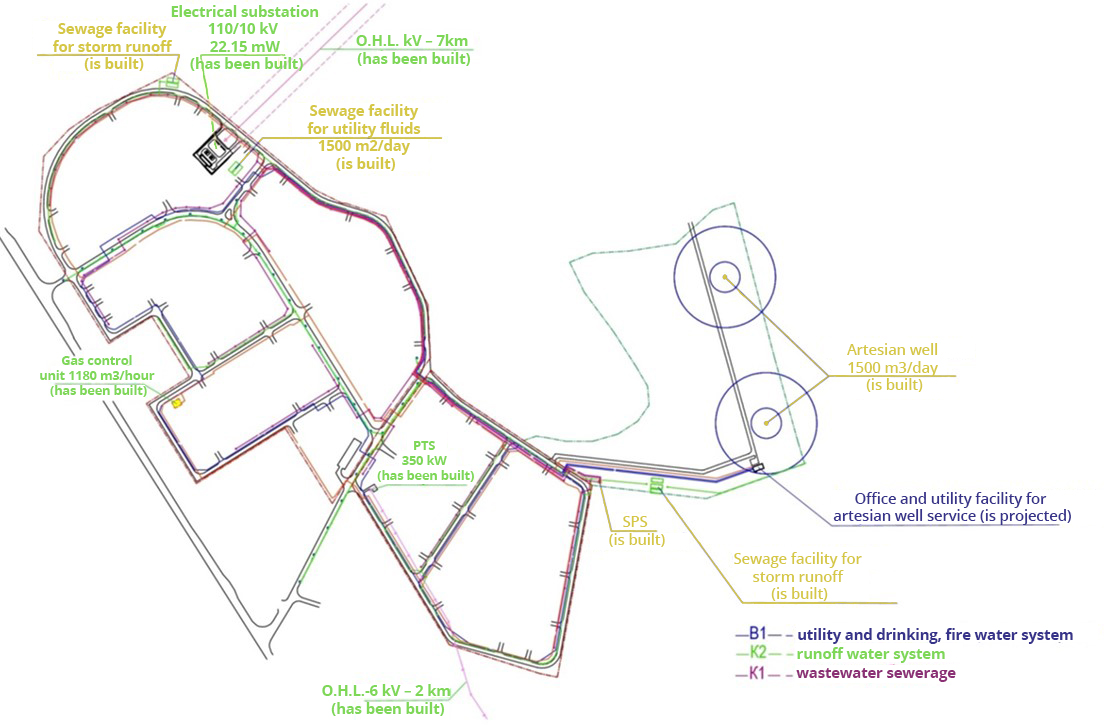 Logistics infrastructure
The region has a unique geographical location.
The following transport routes pass through the region: East-West transport corridors (the shortest route from Europe to Russia) and North-South, including railways and highways. 75% of all goods coming from Europe to Russia go through the Smolensk region.
Being characterized by the border location with the Republic of Belarus, the region has a proper customs and logistics complex with the excise terminal and the capacity of processing goods subject to phytosanitary and veterinary control.
Motorway China-Kazakhstan-Belarus-Europe.
Engineering capacity for the construction period:
6 kV 0.35 mW
power supply
183,91 м3/hour
water supply
183,91 м3/hour
wastewater
disposal
After putting the facilities into operation, the Park will have:
110/10 kV 22 mW
power supply
1500 м3/hour
water supply
1500 м3/hour
wastewater
disposal
Tax benefits:
Human Resources:
Smolensk population - 331 thousand people
Large cities at a distance of 300 km - Minsk, Kaluga, Bryansk, Tver.
Distance to Moscow - 350 km.
Excellent social infrastructure. There are residential areas, hotels, dining rooms, cafes, conference rooms just 1 km from the industrial park.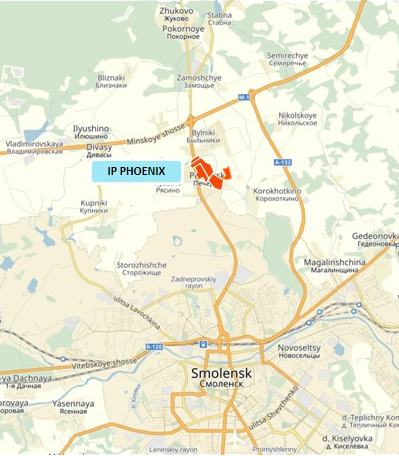 Infrastructure:
Power supply:
There is a construction project of an electrical substation with a
22 mW capacity
Gas supply:
currently the gas supply of the industrial park is carried out in the volume sufficient for the construction of investment projects. A high-pressure gas pipeline was built and a gas distribution unit was installed.
Water supply and water disposal: separate water intake and treatment facilities are planned to be put into operation in 2018.
Roads:
motor roads of IV category.
Telecommunications:
a range of service providers is available.
Financial measures to support the industrial park residents
- Lot rent for the construction period is 0.01 rubles per 1 hectare.
- Technological connection to the industrial park engineering networks is free of charge.
Special offers:
Bank credit products are offered to all industrial park residents (Sberbank, Vnesheconombank, SME Bank):
— increased loan terms,
— a lower interest rate,
— additional favorable conditions,
— participation in the programs offered by the Association of Russia's Industrial Parks on search for partners and subsequent cooperation with them,
— granting credit guarantees to all industrial park residents (JSC "Corporation of Small and Medium Enterprises").
Contacts:
Regarding accommodation of residents, please contact the Management Company of the Phoenix Industrial Park:
LLC "Corporation for Investment Development of the Smolensk region"
web-cайт: corp.smolinvest.com
web-cайт: indpark-fenix.ru
эл.почта: smolregion67@yandex.ru
Office address: Smolensk Region, Smolensk, Engels Str. 23, 2th floor)
Tel./fax: +7 (4812) 77-00-29, 8-920-300-25-28
Investment Development Department of the Smolensk Region
Department for Industrial Park Development
Тел./ факс: +7 (4812) 20-58-03